Happy Cow Creamery in Pelzer, S.C. is aptly titled–the cows are indeed happy.  When we visited, a few cows were nuzzling their caretakers. Some lazily roamed in the pastures or napped, and others wandered up to the barn, got in line and patiently waited to be milked.
Also happy are the countless customers who drive in from surrounding cities–and even states–for Happy Cow's wide selection of healthy milks, cheeses and other products.
Owner Tom Trantham (AKA "Farmer Tom") says that's because he stays focused on 3 things: quality products, fair prices and good service.
"Now think about how many stores there are where you can get all three," he wonders aloud.
The quality of Happy Cow's products is truly unique, and there's quite a story behind it.
Trantham's 12 Aprils Dairy
In 1986, Trantham saw the worst drought in over 100 years, and he was almost in foreclosure, considering bankruptcy, because his crops were down so much. In '87, Trantham, who had been using conventional farming methods, went to the bank to borrow money in the hope of buying chemicals to salvage his then-struggling farm. However, he was denied the loan, and when his thin cows jumped the fence into an adjacent wild field, he thought he was finished.
To his great surprise, the cows thrived after eating the rich wild April forage. Milk production went up, and his cows were healthier than ever. So he let them out to graze again and noticed something interesting: The cows were only eating the top halves of the plants.
He later discovered that this is because the top halves contain cellulose, which has 22% protein, while the bottom halves contain lictin, which is only 6-8% protein. The cows only eat the part that is digestible and nutritious–the part containing cellulose. When eating hay before, they'd been eating the whole plant. Hay was not good for the cows.
Eating April forage, however, was the best nutrition they could get. Trantham says that the most beautiful grass and food grows in April, when the cows are thin from winter, pregnant and ready to calve. By late April and into early May, when the 75-100 pound calves were born, they got up and suckled their mothers who had produced great milk from the rich April forage. They were able to run with the herd in less than an hour.
After that, Trantham decided he wanted to feed his cows organic April forage year-round, so he built 29 paddocks, planting different things all the time. He doesn't till the fields and there are thousands of earthworms. It's like April year-round in terms of plant growth. He rotates the cows through the paddocks, and by the time they cycle back to the first paddock, the forage has grown back.
The cows are not confined and enjoy natural shade and water in the paddocks. They're not injected with growth hormones or fed antibiotics, and Trantham says he hasn't used chemicals or chemical fertilizers in more than 20 years. The only fertilizer he uses comes from the cows!
He says his sustainable farming practices are why he has "the best milk in the country."
The country agrees with him. He's gained widespread acclaim for his 12 Aprils Dairy system and says soil scientists and agronomists have come from all over the country to study his soil, and Utah State University has studied the nutrition of his milk. Trantham was the national winner of the Patrick Madden Award for the Sustainable Farmer of the Year in '02. Other farmers regularly visit Happy Cow so that they can map their practices after his, and his method has been studied in classrooms because of the high yield and quality it produces.
Udder-ly Nutritious
Happy Cow milk isn't just more ethical and eco-friendly, it's also more nutritious.
The milk, which has been tested by Utah State University, contains up to 4 times more CLAs (conjugated linoleic acids) than conventional milk. CLA, a cancer fighting agent, is an essential fatty acid (found in the butter fat of milk) and is not produced by the human body. Trantham says the higher CLA-levels occur because his cows are not confined and are not under stress. In other words, it's because they're happy.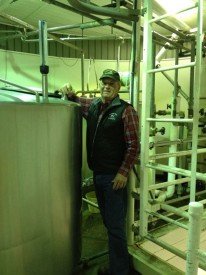 Trantham only sells whole milk because he says that 60% of the nutritional value of milk–like CLAs–are in milk cream.
Another healthy aspect of Happy Cow milk is that it's not homogenized. Trantham explains that homogenizing, or ultra heating, destroys the purity of milk. "Homogenizing milk destroys cells; our bodies don't even recognize it," he explains.
While most major companies homogenize their milk to increase shelf life and, consequently revenue, Trantham says it's not unnecessary. Unlike those companies, which transport unrefrigerated milk cross-country, Happy Cow milk only travels 48 feet, from the barn to the pasteurizing room, where it's only heated to 145 degrees, preserving the milk's natural good-for-you enzymes. After that, the milk is pumped downstairs to the jugs in the bottling room and then carried in crates to an adjacent walk-in freezer. So in addition to not being homogenized, the milk also leaves a much smaller carbon footprint.
His products also have more balanced levels of Omega 6 and Omega 3 and contain increased levels of beta-carotene and natural forms of Vitamins A and D. Additionally, the milk is guaranteed to be rGBH-free. Trantham claims that his milk reduces body fat and lowers cholesterol and that conventional milk does just the opposite.
Happy Cows Make Happy Customers
Trantham says his cows are handled carefully while being milked and that the cows' health is more important than production because if the cows get sick it wouldn't be good for the customers. So happy cows make happy customers!
He cites several anecdotes where his milk has made customers healthier. He says that one woman with breast cancer drank straight cream for nearly a month and her cancer went away. A family friend of his drank 3 gallons of Happy Cow milk a week and lost 47 pounds. Six years later, that friend still drinks a gallon a week and hasn't gained the weight back and says he'd walk to get Happy Cow if that's what it took.
Here are testimonials from two more satisfied customers:
"Since I started drinking only Happy Cow milk, my cholesterol has gone down. My doctor said, "Your blood work is like a teenager!" I'm 57. We drive 40 miles to buy this milk. But I pay nothing for the medicine I no longer need!" – Barbara in Greenwood
"Happy Cow gave me my taste buds back. Their milk and other products remind me of what dairy products used to taste like 45 years ago. What a difference in flavor! I used to suffer from acid reflux (for 20 years), but once I started drinking Happy Cow milk and eating the cheese and sour cream, I've had no acid reflux in a year and a half." – Spence in Williamston
Happy Cow is one of the few places in the country that can boast such a good product. Mega farms are on the rise, and smaller productions like Trantham's are on the decrease. He says that there were more than 500 dairies in South Carolina when he began farming in 1978. Now there are only 84 in the whole state with only 1 in Greenville and Pickens County: his.
More Than Milk
In the Happy Cow store, more than just whole milk is available. Lots more.
Trantham claims that the chocolate milk is to die for and proudly explains that the strawberry milk only contains pure strawberry extract, beet juice for color (no artificial dyes are used) and cane sugar–a sharp contrast to the lengthy ingredients lists found in the dairy sections of many grocery stores.
The ice cream has 4% more cream than the conventional variety (increasing the nutritional value), has no artificial flavors or coloring and, like the milk, isn't homogenized.
Trantham's butter is extremely popular. He says that he sells more at his store than any other store in the state of South Carolina and attributes his success to the good-for-you fats present in his products.
Cheese lovers, rejoice! The store has more than 70 varieties of cheese, including tomato-basil cheddar, Wisconsin and cream cheese. Trantham explains that the 13-year-old aged cheddar is especially good and contains no grade B milk like many products on the market do.
In addition to Happy Cow products, Trantham takes great pride in supporting other local farmers and businesses and boasts such offerings as no-sugar added jams, local honey (some from the hives on his farm), pure vintage popcorn and American Classic Tea (produced in Charleston), along with meats, seafood, grains, a variety of produce and many other staples. View the full list of products available at Happy Cow.
Happy Cow in Numbers
Trantham has been dairying for 33 years, and has done it the all-natural way for more than 23.
There are currently 88 cows, and Happy Cow tries to not exceed 90.
The farm has 170 acres of pasture, 20 acres of woods and 10 acres reserved for ponds, wildlife and roads.
The 5,700 feet of geo-textile roads are specially designed so that cows can easily walk on them, even when wet.
Where to Buy
You can visit Happy Cow's store on 332 McKelvey Road in Pelzer on Mondays through Fridays from 9-7 and Saturdays from 9-5.
Don't feel like driving to Pelzer? No worries! While most customers visit the Happy Cow store, there are more than 40 wholesalers who sell Happy Cow products, including several stores throughout the Upstate, such as Whole Foods Market, Fresh Market and Earth Fare. View the full list of stores carrying Happy Cow products, as well as restaurants using them (like Stella's in Simpsonville).
Want to get in touch with Happy Cow? Visit Happy Cow's website and join the more than 4,300 followers on the Happy Cow Facebook Page.
Tell Us
Have you ever tried Happy Cow products? If so, what's your favorite product?